On June 28th 2021, the Final Conference was organised within the "Bins" project in close cooperation with its partner Utility "Vrela" from Republic of Serbia. The Bins Final Conference was attended by over 30 participants from Gusinje and Sjenica and included a wide array of presentations and contributions from different representatives from involved municipalities. The whole event was greatly moderated by Mr. Huso Brdakić, Vice-Major of the Gusinje Municipality and the member of the project team. Beside different local stakeholders the event was attended by Major of Gusinje Municipality Ms. Anela Čekić and the Mayor of Sjenica Mr. Munib Mujagić.
The Conference agenda offered the opportunity to the participants to learn about the goals of the Bins project, the stakeholders involved in it and the main outcomes resulting from its implementation, as well as to engage in the live discussions about sustainable waste management.
An overview of the project, the Sustainable Waste Management principles and how Bins project applies them has been presented by Mr Radule Bojović, project manager. Mr. Bojović also highlighted how current situation of global pandemia affected project implementation, how the main outputs target different action groups and the lessons learned during the project, specifically those regarding raising awareness on environmental protection, waste management and local community engagement in compost production. The Guide on composting has been produced within the project and will serve as legacy and sustainability tool for beneficiaries. Additionally the project successfully enhanced capacities both technically and in human resources of Utility companies, through procurement of new garbage trucks, waste bins and containers as well as through providing different training programmes.
At the end of the Conference the promotional video has been presented that was produced within the Bins project. An informal initiative was recommended by representatives from Sjenica Municipality to establish traditional day for gathering of two partner municipalities and to continue cooperation on common interests.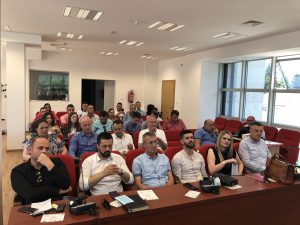 https://cbcsrb-mne.org/wp-content/uploads/2021/06/final-conf-bins4.jpg
1348
1800
Miljana Matovic
https://cbcsrb-mne.org/wp-content/uploads/2018/12/new-logo2.png
Miljana Matovic
2021-06-29 10:51:33
2021-06-29 11:07:14
Final conference – "Bringing in sustainable waste management – Bins"