A press conference within the project " Misterious ways of faith from Lim to Zeta", implementing by the Diocese of Budimlje and Nikšić, the Tourist Organization of Priboj, and the Diocese of Milesevo was held on 9 May, 2022. Adaptation and equipping of historic villa in Nikšić downtown for the purpose of pilgrimage/cultural center and construction and equipping of visitor centre in Priboj Banja complex are planned within the project.
The project was presented by the project coordinator in Montenegro, Konstatin Dojić, project manager of the Priboj Tourist Organization Vidoje Didanović, archpriest staurophore Slobodan Jokić, director of the Nikšić Tourist Organization Mitar Barać and Miljan Mijušković from Nikšić Municipality.
The idea for the development of this project is based on the fact that discretionary leisure travel, where religion is the main motive for travel, is popular in the cross-border area. After almost two millennia of Christianity in the cross-border area, the Christian heritage is a significant tourist resource of the two countries that needs to be nurtured, promoted and used. This project includes the adaptation and equipping of the historic villa in Niksic for the purposes of pilgrimage and cultural center and the construction and equipping of the Visitor Center in Pribojska Banja, branding the target area as a tourist attraction, developing itineraries for religious tourism, creating a manual on religious tourism to supported the development of the key product and contributed to its sustainability. The project also includes organizing a joint cross-border conference on the challenges of modern religious tourism and organizing a cross-border seminar to raise the capacity of tourism workers, presenting the cultural, religious and historical heritage of the cross-border area. Special attention will be paid to the joint capacity building through the organization of trainings in the field of tourism, whereby three tourist guides will be licensed – as stated in the joint announcement.
In addition, two cross-border study visits, two promotional tourist tours of the promoted religious tourism programme area and a presentation of the cross-border tourism offer at tourism fairs are planned. In order to promote tourism potentials, it is planned to create promotional materials, promotional videos and souvenir collections.
The project is funded by the European Union through the Ministry of Finance, the Sector for Contracting and Financing of Programs from the European Union of the Republic of Serbia under the Instrument for Pre-Accession Assistance (IPA II). The total value of the project is 410,430.38 euros, of which the European Union co-finances the amount up to 336,552.91 euros.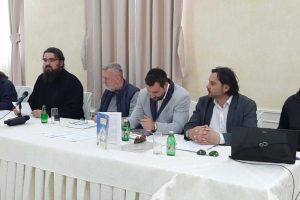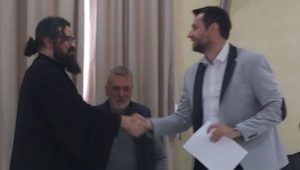 https://cbcsrb-mne.org/wp-content/uploads/2022/05/224949_viber-image-2022-05-09-14-05-43-009_f.jpg
513
906
Miljana Matovic
https://cbcsrb-mne.org/wp-content/uploads/2018/12/new-logo2.png
Miljana Matovic
2022-05-10 14:04:42
2022-05-10 14:04:43
Development of religious tourism within the project " Misterious ways of faith from Lim to Zeta"