Young people from the north of Montenegro have been given the opportunity to increase their employment opportunities through a comprehensive One-Stop-Shop training program. Starting from February 26, 2022, until the end of June, 25 students from Berane, Rožaje and Bijelo Polje will attend intensive courses that include: a soft skills course, a digital marketing course and an entrepreneurship course.
The path to achieving greater opportunities for employment, young people from the north began on February 26, 2022, at the Public Institution Secondary Vocational School – Berane, when the ceremonial opening of the Training Program was organized.
Following the successful launch of the one-stop-shop model in Podgorica, the MNE Forum, together with local partner Civic Youth Initiative Rožaje, is launching a similar program in northern Montenegro. Applying the "one-stop shop" method contributes to increasing the quality of services for the NEET group of young people (who are not employed, not in the process of formal or non-formal education), gathering in one place all the necessary support for youth employability: digital, entrepreneurial and soft skills, together with mentoring, practical work, in contact and cooperation with employers, small and medium enterprises.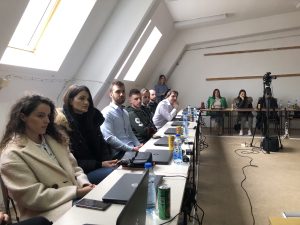 The program will be organized in Berane, at the Secondary Vocational School. In addition, participants from Montenegro will have the opportunity to go through part of the training together with young people from Serbia, who attend the same program. It will be a unique opportunity to exchange ideas, opinions and connections, especially in business terms.
After the completion of the first phase of the training program, participants will work on concrete development of IT business ideas through 3 months of direct mentoring support, after which they will be able to present it at the regional event "Elevator pitch". The best presentations, 6 teams of them, will also receive additional support in the form of business consulting, support in finding financial resources and other important elements for starting own business.
The project "One stop shop – for social inclusion and employability of young people" is a two-year program implemented by the MNE Forum in partnership with the Center for Youth Work (Republic of Serbia), Novi Pazar Youth Office and NGO Civic Youth Initiative Rožaje (Montenegro), in 6 municipalities of the cross-border region of in Serbia and Montenegro within the Cross-border Cooperation Programme Serbia-Montenegro 2014 – 2020.
https://cbcsrb-mne.org/wp-content/uploads/2022/02/Image-1.jpeg
1500
2000
Miljana Matovic
https://cbcsrb-mne.org/wp-content/uploads/2018/12/new-logo2.png
Miljana Matovic
2022-02-28 14:12:36
2022-02-28 14:46:06
The "One stop shop" model will contribute to greater employment opportunities for young people in the north of Montenegro