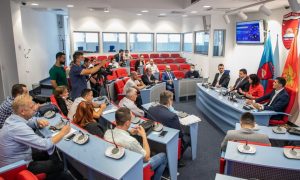 "The project of accession to the EU is a project of all of us. The Government formally leads the project, but everyone must participate in it, both in terms of obligations and in terms of benefits from it. I believe that such proactive municipalities with ideas, with teams that want to work and with a vision, can contribute in the best way to the entire process, "said the chief negotiator of Montenegro, Zorka Kordić, during her visit to Bijelo Polje.
The Chief Negotiator of Montenegro with the UE, together with her associates, visited Bijelo Polje as part of the European Day in Your City project on 23.07.2021, during which she had a meeting with the leaders of the Municipality, participated in a public debate: "The importance of Montenegro's accession to the EU", and together with Mr. Petar Smolović, Mayor of Bijelo Polje Municipality, visited the Public Institution Home for the Elderly "Bijelo Polje" – "Day Care Center for the Elderly" and the Office of the Joint Technical Secretariat for the Cross-border Programme Serbia – Montenegro. Kordic also signed a memorandum of cooperation with the NGO Multimedijal Montenegro and visited the "EU Corner", a project implemented by this NGO, funded by the EU.
Kordić pointed out that the European Integration Office is available to the Municipality in order to better communicate the opportunities and benefits of membership for citizens and the city, as well as to present the opportunities offered within the EU structural funds. She pointed out that she expects the active participation of all, and in that context welcomed the proactivity of the NGO Multimedijal Montenegro, with which a Memorandum of Cooperation was signed.
https://cbcsrb-mne.org/wp-content/uploads/2021/07/210721-Bp-KEI-visit.jpg
471
706
emil.kocan
https://cbcsrb-mne.org/wp-content/uploads/2018/12/new-logo2.png
emil.kocan
2021-07-27 10:29:32
2021-07-27 11:45:31
EU info day in Bijelo Polje